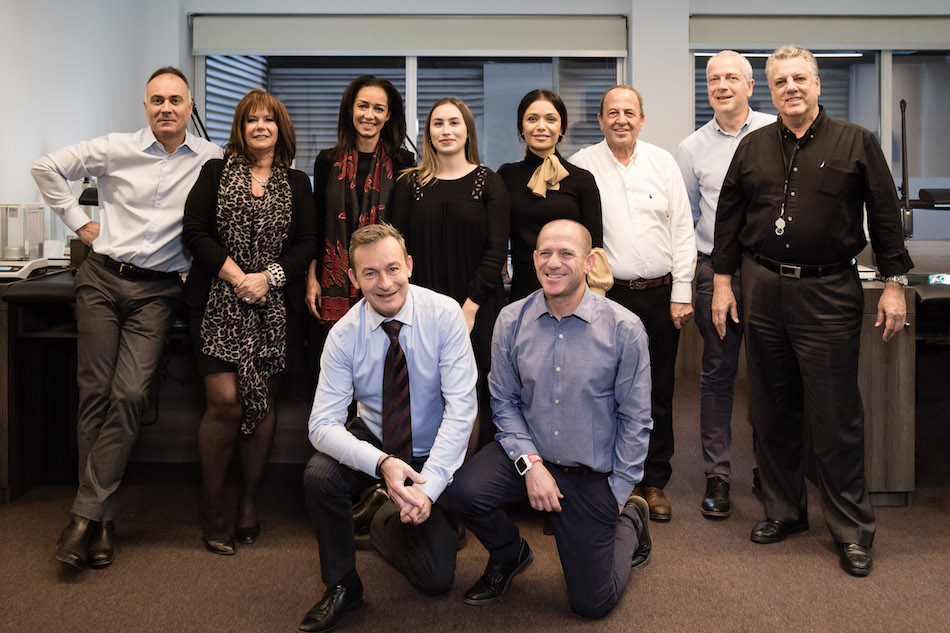 GTD was established in 2011 bringing together a group of independent diamond professionals with a wealth of diamond experience and a passion to reform and develop upon current industry practises.
The company founders are Mr. Shlomo Tidhar and Mr. Frank Govic. GTD also has an extensive support team, which includes diamond sorting, valuation, auditing, and statistical analysis representatives. We have done business in every major diamond-exporting region across the globe on dozens of individual diamond projects.
GTD and its team of specialists offer diamond services to many diverse companies and government agencies across the world, primarily in sorting and valuation of run-of-mine rough diamond production, development of rough sorting and sales operations, rough and polished diamond grading and pricing, and diamond market conditions and marketing best practice. We believe in working as a trusted partner with our clients organizational needs.
In their respective careers, the team at GTD has been responsible for the valuation and global sale of rough diamonds valued in excess of US$ 20 Billion on behalf of various diamond companies.
In addition to Shlomo's responsibilities with GTD, he is currently the CEO of AGM Diamond Expertise, and a consultant of Mercury Diamond. He recently served as a Director and also the President and CEO of the Singapore Diamond Investment Exchange, and has previously sat on the Board of Directors of the Diamond Exchange of Israel.
Shlomo was responsible for the sorting, valuation, and subsequent sale of the entire production from the Mothae diamond mine in Lesotho on behalf of Lucara Diamond Corporation during Mothae's trial mining period from 2011 – 2013. He began his career as a diamond buyer in Central African Republic.
Shlomo has 40 years of experience in the diamond industry and has held previous positions including Vice President, Valuation & Quality Control for Dominion Diamond Corporation where he was responsible for all rough diamond sorting and valuation activities for Dominions share of the Diavik Diamond mine with production in excess of 4 Million carats and $400 Million per annum. He was also a rough diamond buyer for Dominions former Harry Winston retail division where he purchased some of the highest value diamonds available in the world.
Shlomo also maintains one of the most accurate and sophisticated rough diamond pricing systems in existence, using actual rough and polished diamond transaction prices from around the world.
Frank Govic established an independent rough trading and consulting company in Antwerp in 2010. He later established GTD Consulting with Shlomo Tidhar and most recently CRODIAM Consulting in Dubai. Frank held the position of Marketing Director at BHP Billiton Diamonds resigning after 11 years at the company to pursue his own business development. At BHP Billiton Diamonds Frank was responsible for the valuation and sales of diamonds from the Ekati mine in Canada with production in excess of $1B per annum.
His diamond career started in 1984 with Rio Tinto in Perth, Australia where he was a valuator and sales negotiator for the Argyle mine operations. After relocating to Europe in 1995, he began independent work buying rough diamonds in Africa and selling on the open market in Antwerp. Frank is an active evaluator, trader and consultant and is a respected participant in the global diamond industry.
Frank is specialized in start-up diamond mining operations and rough diamond marketing and sales. Frank has more than 30 years of diverse experience in the Diamond Industry and is a former member of the Executive Committee of the World Diamond Council (WDC). He has consulted many junior miners on rough diamond marketing and has established various operations in Belgium and Africa.
With his mandate at the World Diamond Council, Frank gained valuable insights into the Kimberley Process Certification Scheme and was an active participant in the World Diamond Council KPCS plenary. He has authored reports including a report that was instrumental in lifting sanctions against rough diamond exports in Ghana.
At BHP Billiton Diamonds Frank developed and was part of many new initiatives to challenge the traditional methods of rough diamond sales. These initiatives gave rise to the revolutionary BHP rough diamonds auction sales platform that created a transparent and highly competitive long-term contract and spot market auction approach to rough diamond sales.
With over 30 years of experience in diamonds Frank has gained intimate experience and knowledge of producer sales and auditing processes including auction and tender based sales and marketing platforms. Frank has worked extensively in Australia, Canada, Europe, and Africa and continues to provide sales and consulting services to global government organizations, diamond industry representative organisations and private mining enterprises.
Ryan joined GTD in 2011 and helped to develop many of the systems that GTD has perfected over the past decade. He has worked with companies large and small, in many different stages of their evolution from early stage exploration and feasibility analysis, to mine development and commercial production. Ryan has developed a host of analytical tools for evaluating rough diamond trends and anomalies. He has also helped to establish rough sorting and marketing systems and facilities, with an intimate knowledge of diamond valuation and price book maintenance, chain of custody and internal auditing, stock management system development and maintenance, and management reporting.
Ryan has a rare combination of analytical knowledge and hands-on diamond technical skills. He currently represents Stornoway Diamond Corporation as the company's independent third-party diamond valuator at its Renard diamond mine in Quebec, Canada. In this role, he supplies diamond export values to the Canadian government to ensure compliance with the KPCS.
Ryan's diamond career began in 2002 with Dominion Diamond Corporation where he held various management positions including Director, Operations Control. He was responsible for all diamond department reporting and quantitative analysis to senior management, board members, government representatives, and third-party contractors and auditors. He was also the company's primary representative to the Canadian government in export related matters and had oversight responsibility for compliance with Kimberley Process regulations and implementation. He successfully brought the company into compliance with ISO 9001 certification standards on diamond chain of custody controls and ensured operational compliance with Sarbanes-Oxley financial reporting regulations.
Violet is a rough diamond professional and a GIA graduate with nearly two decades of hands on experience in sorting and quality control of rough diamonds from various diamond mines located in South America, Canada, and Southern Africa.  She has successfully trained and managed multiple teams of rough diamond sorters, as well as representatives of the territorial government of the Northwest Territories (NWT, Canada) diamond royalties department. Her experience covers the entire spectrum of rough sorting including valuation of early stage bulk samples, commercial sorting, and creating marketable sales parcels. She has also developed master sorting samples to standardize quality control parameters for her team.
Violet joined GTD in 2016 and currently resides in Belgium where she manages GTD's Antwerp team of rough diamond professionals.